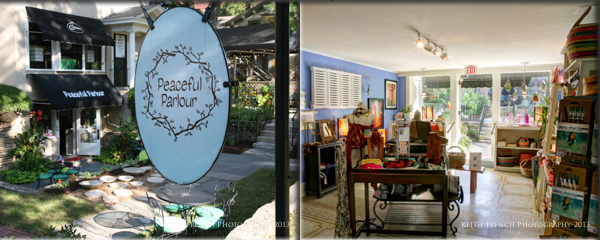 Photograph by Keith French
What You Can Expect

ReCork
Peaceful Parlour accepts natural corks for recycling.
Peace
Peace Yeti will make you smile.
Planet Fassa
Kids book reading & signing with Planet Fassa.
Wholesome Livin
Learn to make Ginger Beer with Mary's Wholesome Living.
Organic Tea
Happy Customers enjoying a sample of our amazing, organic, herbal tea!

Herbal Conference
Owner, Shari Ralish, with herbalist Susun Weed at the Midwest Women's Herbal Conference
SEE Green Panel
Owner, Shari Ralish participates in Riverside High School SEE Green Panel
Delicious Teas

Our signature tea, Peaceful Synergy calms and settles a stressed mind and body. Soothing Lemongrass and Chamomile combine with uplifting Tulsi and Mint to bring balance to your day. A touch of Ginger and Cardamom synergize this into a perfect caffeine free refreshment.

Peaceful
Synergy
Lemongrass, chamomile, lemon verbena, spearmint, licorice, ginger root, lavender, rose petals.
Peaceful
Comfort
Licorice root, peppermint, fennel seed, sweet basil. Organic, caffeine free.
Dreamer's
Tea
Chamomile, peppermint, lavender, clove, orange peel. Organic, caffeine free.
Radiate Your
Essence Tea
Chamomile, peppermint, lavender, clove, orange peel, tulsi and rose petals.
Moroccan
Mint
Gunpowder green tea, spearmint, peppermint. Organic, contains caffeine.
Bath and Body

Exotic Dead Sea Salts and Himalayan Salts; fresh lavender sachets, eye pillows and dryer bags from Washington State; plant based insect repellents; soaps; herbal salves; beeswax lip balms; Eczema aids; face crème; TruKid bubble bath, lotion and sunscreen.

 
Dead Sea Bath Salts

Himalayan Bath Salts

Herbal Insect Repellent, Salves and Soaps

Sunscreen, Lotion and Bubble Bath

Herbal Tinctures

Home, Kitchen and Gifts

Handcrafted cherry wood tea strainers and utensils; Glass tea pots; up-cycled wine bottle glasses; local artisan jewelry; reusable lunch boxes and RePEaT travel silverware; recycled glass water bottles; Abeego reusable food storage; eco-friendly fair trade lamps; local artist paintings and photography; local raw honey; organic fair trade Theo chocolate.

GlassDharma Drinking Straws
African Bolga Baskets

Lamps with Fossilized Leaves

Cherry Wood Tea Strainers
Abeego flats, wraps and snacks

Toys and Kids

Crayon Rocks colored with mineral powders; Glob Paints colored with botanicals, spices and fruit; Green Toys trucks, tugboats and tea sets made from recycled plastic milk jugs; Cubebots; thinking putty; Organic lollipops, gummy bears and gummy worms; Organic cotton tshirts made in USA.

USA made Green Toys

Cubebots

Bamboo Baby Bowls and Spoons

Crayon Rocks
Organic Lollipops

Meditation and Energy Clearing Tools

Our energy clearing station includes loose sage and smudge sticks; handcrafted incense sticks and resin; singing bowls and tingshas; herbal sprays of sage, lavender and holy basil; Oracle reading cards; healing wands with crystals; and prayer flags.

Loose Sage and Smudge Sticks

Traditional Incense and Burners

Singing Bowls and Tingshas

Holy Basil, Sage and Lavender Hydrosols

Crystal Healing Wands

Outdoor

Felted and fair trade bird houses; Handcrafted desert bell chimes, fair trade from India; Buddha and praying monk statues; handcrafted step-in-stones; stained glass flower decor; whimsical clay markers and detour signs; toad houses and butterfly puddlers; lobster rope door mats.

Fishing Rope Doormats
Desert Bell Wind Chimes
Garden Bird Baths and Step In Stones
Clay Garden Markers
Toad Houses